Are you looking for a non-surgical way to treat your thinning hair and receding hair line? Let's talk!
You are not alone if you are experiencing thinning hair or hair loss. Every year, nearly 50 million men and 30 million women are affected by pattern baldness. Hair regeneration treatments can often help to slow hair loss and boost self-esteem.
When used for hair loss, platelet rich plasma treatments (also known as PRP Therapy) can be far more effective than traditional treatments. The treatment has been shown to increase hair count, thickness, and the growth phase of the hair cycle.
PRP Hair Restoration Therapy has been shown to restore over 30% of hair loss, with results lasting for more than a year in many cases. This hair loss treatment is ideal for those who have just begun to lose their hair and do not want to undergo invasive surgery. It does require multiple treatments and maintenance, but it is far less expensive than hair transplants, has no downtime, and is non-invasive.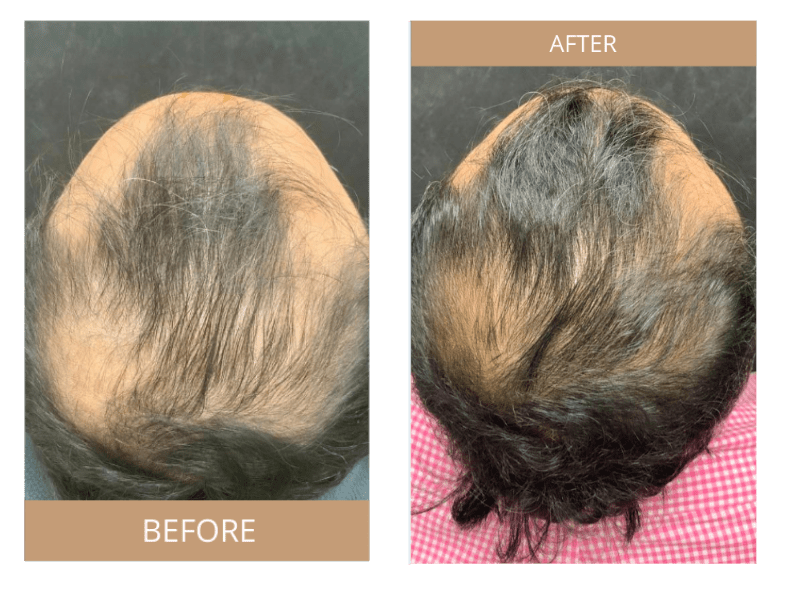 Schedule An Appointment Now!
Please Complete The Following In Its Entirety
BEFORE AND AFTER PHOTOS OF PRP Therapy
The treatment typically requires 3 treatments spread between 4 and 6 weeks apart with maintenance treatments scheduled approximately every 6 months.

The process includes drawing the patient's own blood from their arm and spinning it in a centrifuge to separate out blood into platelet-rich plasma and red blood cells. The platelet rich plasma is then drawn up into a syringe and injected into areas of the scalp that are thinning. The plasma then words to stimulate the hair follicles and activate new hair growth!

Are you wondering how to make your Botox treatment last longer? Here's an explanation from 8 Top Doctors on How to Prolong Botox At Home.
bauman CERTIFIED hair coach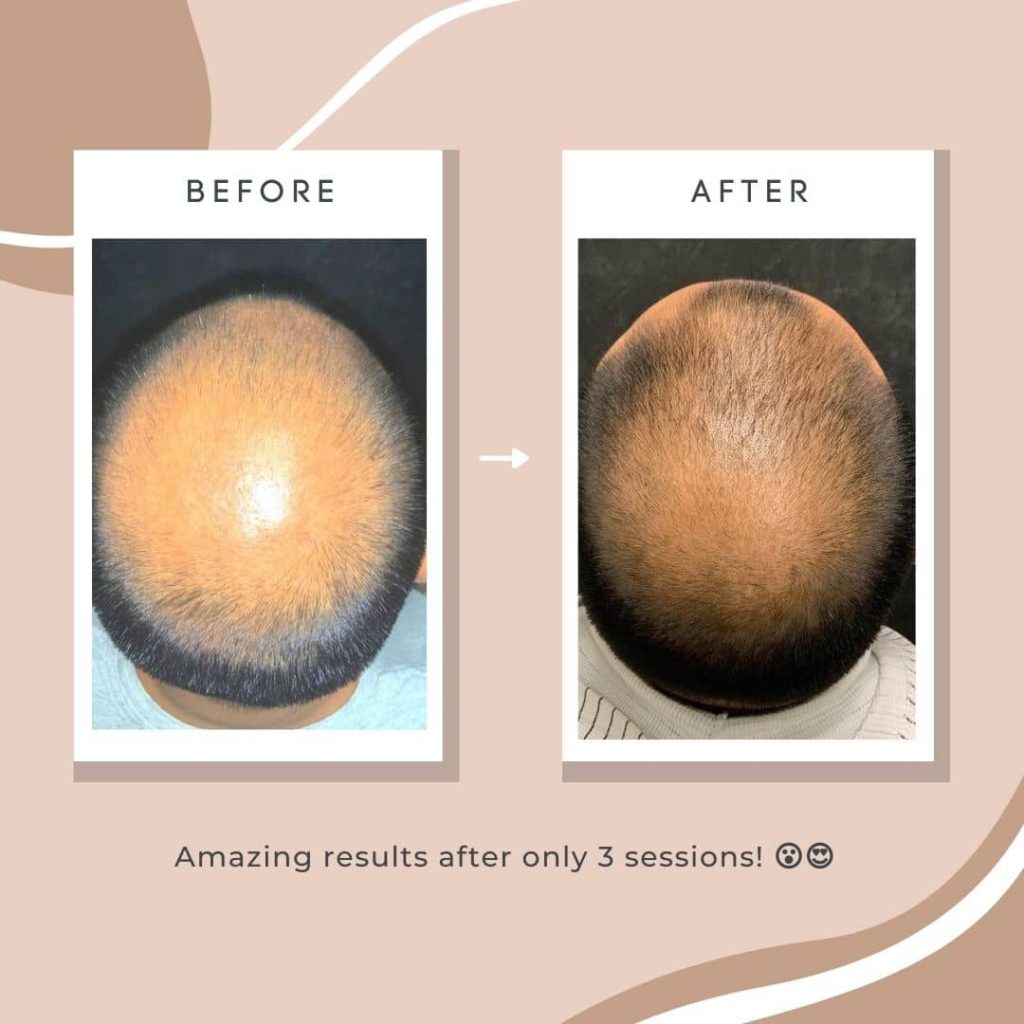 Dr. Galope is a board-certified hair coach who trained under Dr. Alan J. Bauman, a full-time hair transplant surgeon and hair restoration industry expert. Lasting Impressions Medical Aesthetics is currently one of only 6 locations within New Jersey that have this certification for thinning hair and hair restoration treatments.
Although heredity is the most common cause of hair loss, there are often other external factors at work, such as disorders such as alopecia. Thinning hair can be caused by hormonal changes caused by pregnancy, childbirth, menopause, or thyroid issues in many women. Furthermore, certain medications used to treat heart disease, arthritis, depression, and high blood pressure have been linked to hair loss. Stress is also a major contributor to many health problems, including hair loss. Finally, the daily impact of hair treatments can result in hair loss due to inflamed hair follicles.
Are you an ideal candidate?
Most often the best candidates for PRP Injections for Hair Loss are those who are in the earlier stages of their hair loss and have smaller, more isolated areas of hair loss. It's also incredibly effective for those who have begun to see their hair start to thin but still have a good number of active hair follicles.
Here's what you need to know on the day of your Hair Restoration Treatments.
Wash your hair. It's important to remove as much buildup on the scalp as possible so the platelet-rich plasma can reach the hair follicles easily. Please also avoid using any hair products such as sprays, gels or other topical products that can clog hair follicles. 
Plan on arriving prior to your appointment so we can apply a numbing cream. This helps reduce any discomfort associated with the PRP Injections. 
Also, plan on booking your next appointment. Getting your next treatment scheduled is important to the success and longevity of your results. PRP injection treatments are typically recommended every 4-6 weeks but we will let you know if this varys.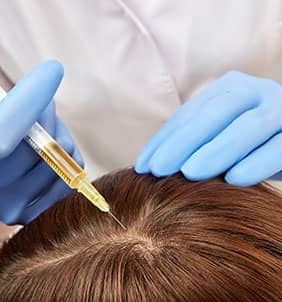 To schedule your BOTOX Cosmetic consultation with Dr. Roel Galope, call our office at (201) 509-4714 our professional staff will be happy to assist you!
recovery after prp for hair restoration
As with any type of injection, swelling, discomfort and bruising is not abnormal. This can last between 2-5 days post treatment. Sometimes patients describe their scalp as feeling a bit tight or tingly while the hair follicles are being activated. 
It's important not to rub, touch or itch the treated areas for a minimum of 8 hours post treatment. 
It's also important to pay attention to your hydration as your scalp heals. Be sure to drink plenty of water to promote healing.
Take Tylenol or Acetaminophen as directed for if you're feeling any discomfort rather than Advil or Motrin and any other anti-inflammatory medications for a week following your procedure. 
Strenuous exercise and heat should also be avoided for at least 48 hours. Any type of activity that generates heat whether it be heavy exercise, sun exposure or even a sauna can result in additional swelling and bruising after the PRP injections. 
The same goes for alcohol, caffeine and smoking. Avoid these activities for at leas 72 hours post PRP injections and they result in a prolonged healing time.
Autologous Stem Cells (LIPO GOLD)
Treatment for anyone who would like to treat or prevent wrinkles without surgery.
PepFactor

Most cutting edge technology on the market for hair regrowth!


PRP

Proven to effectively increase hair count, hair thickness and improve the growth phase of the hair cycle.